Everyone who has made or is in the process of making games has probably asked themselves this very question. Different creators will have their own reasons for designing games. Some want to see if they can make something others will enjoy, while some may do it for the recognition. The most driving reason, however, is the desire to play. Without this desire, there would be no need to make games in the first place.
Games and the human brain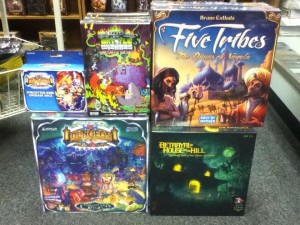 The desire to play is not unique to humans. Many animals also exhibit this quality, especially among the young. Play promotes companionship and teaches many important life techniques, whether they be hunting and defense skills for the animals or math, critical thinking, and sportsmanship for people. Unlike other animals, however, most people tend to get bored playing the same games day after day, stemming from our longing for the newest and greatest. This longing has led to the evolution of games from the dice and cards of early history to the multitudes of games today.
What games stimulate you?
Not all games appeal to all types of people, so in an effort to make them more appealing, rules are changed, added, or removed. Sometimes the pieces themselves are changed, such as from dice to cards, cards to boards, and boards to electronics. Each has its own style of game-play favoring a combination of chance, skill, and strategy, appealing to different audiences. Games with high chance factors appeal to those who like to gamble and enjoy uncertainty. Games of skill appeal to those who enjoy the physical aspect, often as a test of strength or dexterity. Games of strategy appeal more to those who like to be in control of their actions and outwit their opponents. Few games will focus solely on one aspect over the others as this can lead to the outcome of a game being known early during play or even at the outset, removing the fun for most. At the heart of it, games are made so we can have something new to play.
-James McLean