So here we are in the thick of a Kickstarter campaign!
So we're past the initial rush of launch, the wellspring of support from our family and friends and now we're into the part of the Kickstarter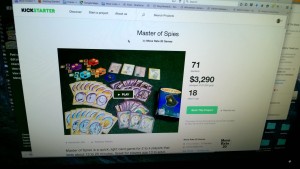 campaign where the real work begins, getting the world to notice "Master of Spies". We're looking at some strategically placed ads, reaching out to gaming websites and even doing some "street-team" canvasing of the local gaming and comic stores around the area. And we, of course, appreciate all the work you guys have done by sharing the project and your helping us to get the word out there!
Our deepest thanks,
Steve R, Steve P, Rob & James
The Move Rate 20 Games Team